RetroFestive.ca
1100 Invicta Drive, Unit #1, Oakville, ON L6H 2K9
SHOWROOM NOW OPEN EVERY DAY TIL CHRISTMAS!
NEW EXTENDED HOURS: 9:30am - 6:00pm*, Open til 8:00pm Thursdays!
*Except Sunday, December 15, we are closing at 4:30pm

If you have any questions, problems, concerns or comments, please don't hesitate to contact us through the form below or e-mail: sales@retrofestive.ca.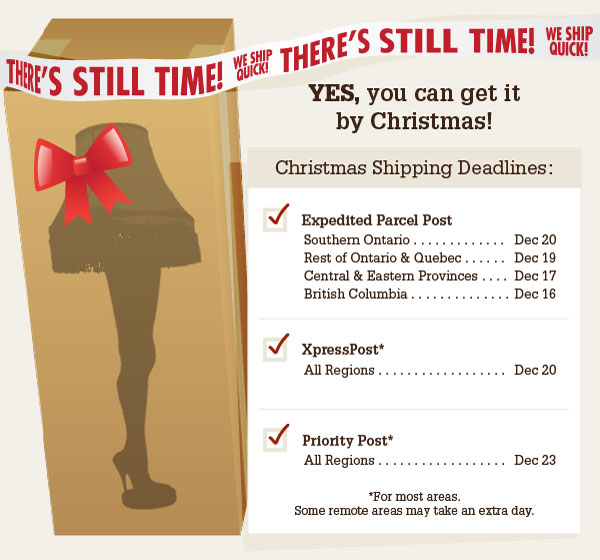 Phone Support

We are able to provide only limited telephone support. 95% of our customers place their orders online, and we answer most inquiries via email. However, if you need to call us, here are the details:
Phone Support Times: 9am-5pm, Eastern Standard Time
Days: Monday through Sunday
Call (855) LEG-LAMP / (855) 534-5267
Due to the high volume of calls, you may receive voicemail. Please leave a message and we will return your call as soon as possible.
You'll often get a faster response if you email us your question.
Directions to the RetroFestive Warehouse & Showroom:
If traveling via the QEW, take the Trafalgar exit and head North.
Turn right at the first intersection onto Iroquois Shore Road.
Take your second right onto North Service Road.
Turn left onto Invicta Drive. We are the first building on the left (AFTER the building on the corner).
RetroFestive is at the front of the building. 1100 Invicta Drive, Unit #1.
IMPORTANT: The answers to 90% of the questions we receive can be found on our website. Please take time to read through the following pages to find an answer to your question:
Media Contact:
Damien Nelson, Flip Publicity
416-533-7710
damien@flip-publicity.com
The characters you copied from the image are incorrect. Please try again.