SHIPPING Update:
Dec 1: YES! You will get your order by Christmas! Even though we are experiencing unprecedented demand, there's still time to order and receive it by Christmas. All orders leave our warehouse within 3 to 6 days.

Personalized ornament orders might take a couple days more (but we do a really good job, so they're worth the wait!)
The best thing to do is ORDER EARLY! We are working our hardest to get the orders picked, packed and delivered as quickly as possible!
We've also introduced Free Warehouse Pickup in Oakville. Details Here.
During the pandemic, Canadians have turned to us for our unique selection of face masks, pajamas and puzzles. Be safe out there!
RetroFestive.ca is a family owned, Canadian company. All of our items are priced in Canadian dollars. We ship everything we carry from our warehouse in Oakville, Ontario (just outside Toronto). You'll never pay any extra taxes, duty or brokerage fees when you shop with us. We do not offer shipping outside of Canada.
Free Shipping Details
Due to overwhelming demand, we have temporarily made modifications to our Free Shipping. At this time, Free Shipping is offered on all orders over $125 in ONTARIO and $150 in the rest of Canada. This policy may be adjusted at any time. We expect to return to a more comprehensive Free Shipping offer in the New Year.
We Ship Within a Few Days
Although most packages are still moving quickly, Canada Post and all courier services have suspended their on-time guarantees during the pandemic. The below timelines should be used only as a guide, not as a guarantee.
Handling Time: We are currently shipping within 3 to 6 days of receiving your order. (If you need to receive your parcel by a specific date, please email us to let us know!)
Once shipped, your order will take between one to nine business days to arrive, depending on how close you live to our warehouse in Oakville, Ontario. (Remote areas may take longer). Express services via Canada Post are available for additional charge.
Shipping times for each province are listed next to the map below.

BE SURE TO ADD OUR HANDLING TIME to the shipping estimates below:
Regular (Expedited) = Averages 2-9 Days
Express (Xpresspost) = Averages 1-3 Days (Depending on location). Some areas can take as long as 5 days. Major Centers and provinces closest to Ontario receive faster service than distant provinces. These parcels are usually sent via Canada Post Xpresspost and often take an additional day during peak periods such as Black Friday.
Rush (Priority) = Averages 1-2 Days (For major centers only). Don't forget, we need at least 1 day "handling time" to ship your order. These parcels are typically shipped via Canada Post Priority Post.
Most orders are shipped by Canada Post. Some parcels in the Greater Toronto Area will be shipped by a regional delivery service known as ShipperBee. This map provides estimated delivery time for REGULAR speed parcels: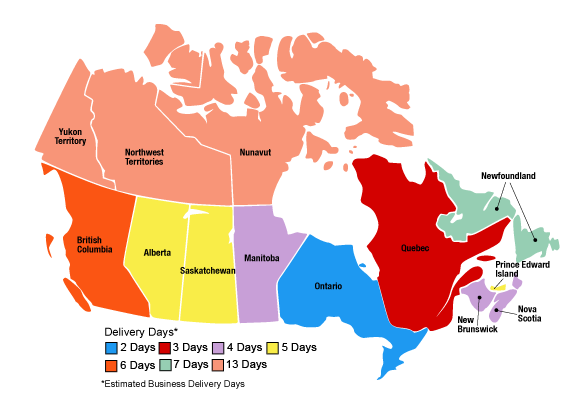 In some instances when items are thought to be in stock but are not available, you will be notified of the options available to you prior to your order shipping. Please note we reserve the right not to ship any orders for any reason. If your order has a problem and cannot be shipped, we will contact you with a potential resolution.
Due to the fact that many orders are gifts, invoices are not included with shipments.
* We reserve the right to limit quantities. Customers may be limited to a quantity of
3 per item in a 12 month period

(unless special permission is obtained in advance). We are not a wholesale site, and we do not support resellers of our merchandise.
Calculating Shipping Costs
Our website makes it easy to calculate approximate shipping charges before you check out. Simply place the items you like in your virtual shopping cart. Then view the contents of your cart. You will see an area where you can enter your postal code to receive an instant shipping quote, as well as applicable taxes.
Tracking Your Order
Once your purchase has been shipped you will receive via e-mail a tracking number to check the status of your order. You will be able to track the status of your shipment via the Canada Post website using the tracking number provided.
Shipment Receiving Guidelines
When you receive your order in the mail, immediately unpack all contents to ensure that you were shipped the correct items. If there are any damages or shortages they must be reported immediately (within 24 hours) using our Return Policy.
Warehouse Pickup
To avoid shipping charges, you can choose to pick-up your online order at our warehouse/showroom in Oakville, ON. In November and December, online orders may be picked up 7 days a week, between 9am and 5pm. No appointment necessary.
Please Note: Order Pick Ups are by appointment only during the rest of the year (January through October). Please email or phone us to arrange a day/time to pick up your online order.
Our Address
1100 Invicta Drive, Unit #1, Oakville, Ontario, L6H 2K9.
Leg Lamp Shipping Details
Our full size leg lamps (45" and 50") are quite large and ship in two big boxes: one box for leg and another box for lampshade.. These items are not eligible for Free Shipping. A surcharge is added, and varies depending on where you live in Canada.
Return Policies
Important: We have different return policies for Online Orders VS In-Store Purchases. Details Below.
Online Order Returns
Due to the seasonal nature of our business, RetroFestive has a seven day Return Policy on all products. If you are unsatisfied for any reason, you must contact us within seven days of receiving your order to receive a Return Merchandise Authorizaton Number (RMA). We will issue an exchange or refund once we receive your return at our warehouse. Print your RMA on the box/envelope and mail the items back to us at the address provided. You have a further seven days after receiving your RMA to ship the item back to us in its original condition. Failure to include your RMA on the package may result in signifigant delays in processing your refund, or a refusal of refund.
You are responsible for paying shipping charges for the return shipment. We cannot refund the cost incurred in shipping your original parcel. (This includes our costs incurred in "Free Shipping" orders).
Returned or exchanged merchandise must be unused, unworn and returned in its original packaging in re-sellable condition.
If for some reason you receive a damaged or defective product, we will send you a replacement right away. If you have questions regarding our return policy, we suggest contacting us for clarification before placing your order.
Clothing Returns and Exchanges
If you are returning apparel that does not fit, we will happily exchange it for a new size once we receive your return at our warehouse. We will pay the cost of shipping the replacement to you. Please note that clothing must be unworn, with original tags intact.
Moose Mugs
It doesn't happen often, but occasionally moose mugs can be damaged during shipping. You must notify us within 3 days of receiving your moose mugs if any damage has occurred, in which case we will replace your moose mugs and file a claim with Canada Post.
Return Address
RetroFestive Sales Inc.
1100 Invicta Drive, Unit #1
Oakville, ON L6H 2K9
In-Store Purchase Returns
All purchases at our Oakville Warehouse Store are considered Final Sale, with the exception of apparel that does not fit. If you have purchased clothing that does not fit, we are happy to exchange it for a new size until Dec 28.. If you are unable to exchange your item for a size/style you are happy with, we will issue you store credit to be used in the future. You must provide a receipt of purchase, and the tags must still be on the apparel.