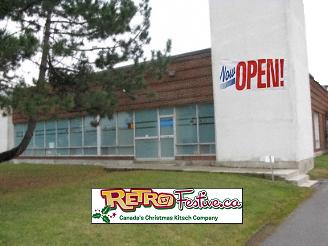 1100 Invicta Drive, Unit #1, Oakville, ON
NOW OPEN!
OPEN EVERY DAY TIL CHRISTMAS: 9:30am - 4:30pm
RetroFestive is primarily an e-commerce business, shipping Canada-wide. However, many of our customers in Southern Ontario enjoy shopping with us in person at our 1,500 sq ft. showroom attached to our Oakville warehouse. Like Santa's Secret Workshop, we're a hidden gem not a lot of people know about.
This holiday season, we invite you to explore our wintery wonderland where you'll find a whimsical collection of unique pop culture items, Christmas kitsch and holiday decor.
Showroom Grand Opening Event:
Saturday, November 16 - Christmas in Oakville Weekend!

Catch the famous Oakville Santa Claus Parade.

Lots of special "Grand Opening" activities in our showroom, including an author signing, cake cutting, character appearances, and more! Details to be announced soon!
Also, enjoy strolling dozens of charming shops in historic Downtown Oakville.

Frequently Asked Questions about our Showroom:
Q. Is it open to the public? A. Yes (November & December only).
Q. Do you have everything in stock at your Showroom? A. Yes, if the item has an "Add to Cart" button beside it on the Website, that means it is in-stock and will be available at our showroom location.
Q. Is your showroom pricing the same as your website pricing? A. Yes!
Directions to the RetroFestive Warehouse & Showroom:
If traveling via the QEW, take the Trafalgar exit and head North.
Turn right at the first intersection onto Iroquois Shore Road.
Take your second right onto North Service Road.
Turn left onto Invicta Drive. We are the first building on the left (AFTER the building on the corner).
RetroFestive is at the front of the building. 1100 Invicta Drive, Unit #1.
Come visit us in our Oakville Showroom (Nov & Dec only).
You'll feel like a kid at Christmas!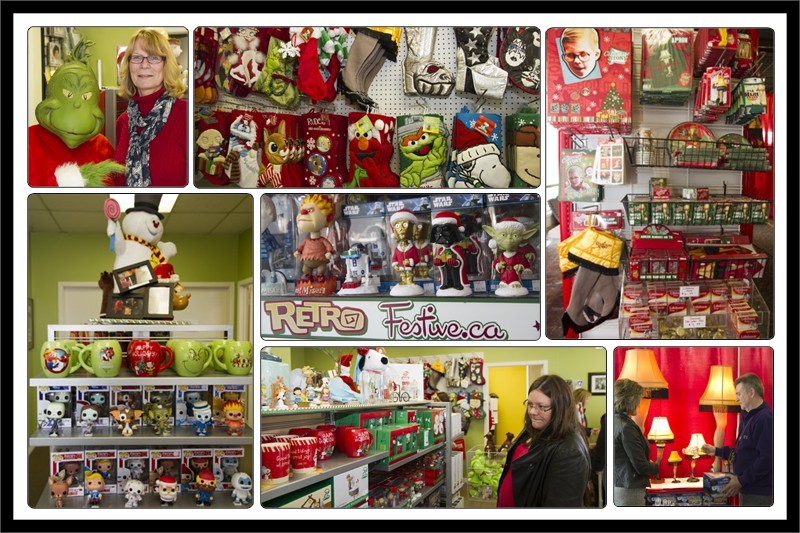 Our showroom windows feature fabulous artwork by Master Window Painter Adam Buller.