Rating: 5

| Date: Dec 1, 2010 | From: Karen
My husband ordered, among other things, a leg lamp from your website last Christmas and it was definitely a big hit in our neighbourhood and on Facebook (I couldn't resist posting it!). This year, the leg lamp was once again set in its place of honour - the front window. And once again, my husband and son ran out to the front yard to make sure that it was placed just perfectly so that everyone could see it in all of its glory. I am attaching a photo of said Christmas 2010 "unveiling" that shows not only the major award, but father and son outside inspecting their work.

Thanks for a great product that has somehow turned into a strange family heirloom! lol

Karen
Brandon MB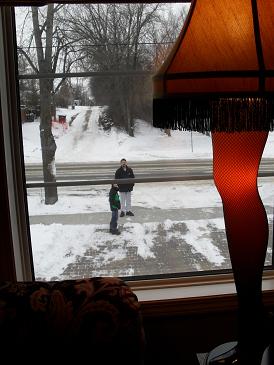 Rating: 5

| Date: Nov 30, 2010 | From: Laurie Bilyea
We LOVE our leggie lamp. Our neighbours are having a laugh and the mother-in-law.....well the jury is still out on that one.

Cheers,
Laurie Bilyea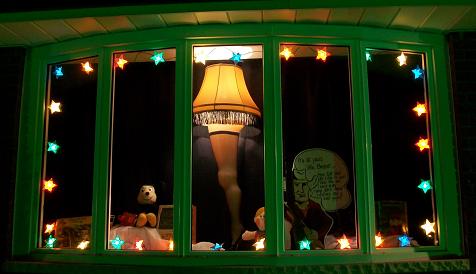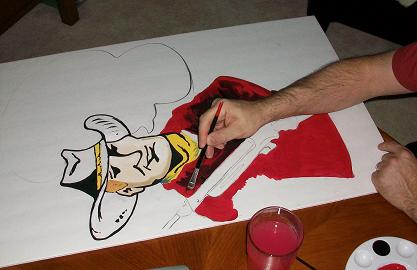 Rating: 5

| Date: Nov 2, 2010 | From: Landon
I'm sure you get tons of these each Halloween, but I can't help but brag. I bought the bunny costume from your website shop, and it was worth every penny. My wife had to be more creative, using an actual lamp shade, and actual lights to create her costume.

Landon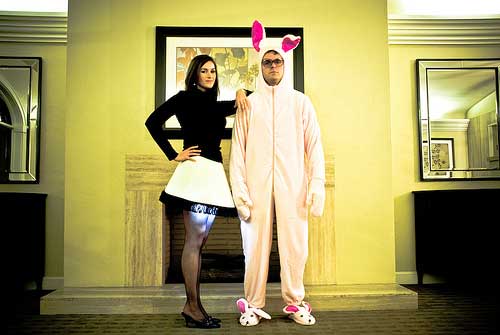 Rating: 5

| Date: Nov 2, 2010 | From: Mary Jo & Bob Haney
Hi, I'm writing to let you know how much we enjoyed your Road Trip for Ralphie DVD. My husband and I watched it by ourselves the first time and then again with our family on Christmas Day. It was neat to see all the locations and hear the back stories of what went on during the filming of A Christmas Story. We think you two are a cute couple and did a great job tracking all those locations down. Just thought you might appreciate a little feedback on the film. Thanks again.

Mary Jo & Bob Haney
Rating: 5

| Date: Nov 1, 2010 | From: Jeremy Carstensen
I got a leg lamp from my wife last Christmas. I love it and I can't wait to put electric sex in my window every year.

Ps... I hope I never have to tell her to "Get the glue!"
Rating: 5

| Date: Oct 23, 2010 | From: Erica Van Straus
Last Christmas, I received a leg lamp night light from my mom. I simply love it! It's always on in my guest bathroom and when I have company over, they rave about it. It's awesome.

Erica Van Straus, Chilliwack, BC
Rating: 5

| Date: Oct 22, 2010 | From: Brandon Johnson
The moose mugs are PERFECT guys! Thanks SO much! My family will have so much fun with these at Christmas. You have no idea!
Rating: 5

| Date: Sep 7, 2010 | From: Suzanne
Both my daughter and I fell in love with the bunny suit, so I HAD to buy one. But it is so cute and comfy and very cozy. You can't help but feel great while you wear it. After all, who could be grumpy to someone in a pink fuzzy rabbit outfit? Long story short, to make both of us happy, our house is the happy home of TWO suits.
() ()
>*.*<
Rating: 5

| Date: Jan 8, 2010 | From: sherri
I received the deluxe desktop lamp for Christmas this year and just loved it. As the old man said "What a great lamp!"
Rating: 5

| Date: Dec 8, 2008 | From: Maureen
Hi,

Just wanted to tell you that our Leg lamp arrived safely and is proudly displayed as part of a Christmas window in our shop. The response has been incredible and many people come in to ask where we got the lamp so we have referred a lot of people to your website. Thank you also for the nightlight and helping to make this a very memorable Christmas.

Merry Christmas to you and yours,

Maureen

Roton Industries

Granville Island

Vancouver, BC
Rating: 5

| Date: Dec 7, 2008 | From: Daryl Granger
I LOVE MY LEG LAMP! GREAT SERVICE.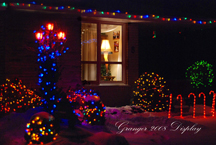 Rating: 5

| Date: Nov 27, 2008 | From: Sean
Great lamp and a pleasure to deal with.

Thanks Tyler
Rating: 5

| Date: Oct 30, 2008 | From: Dave Woodhouse
I have been waiting a long time for a Canadian branch of A Christmas Story House Gift Shop to open. Wait no longe Canada, hear is the real thing and just in time for Christmas and the 25th anniversary of the Movie.

Everything you require to have a Major Award Christmas is now available to all fans North of the Boarder.

Being one of the first to palce an order in Canada I was impressed with the fast shipping and professionalism of the staff.

My thanks to everyone at LegLamps.ca