A Christmas Story Treasury: Tribute to a Christmas Classic
By Tyler Schwartz, Owner of RetroFestive.ca
In 1983, a modest movie called "A Christmas Story" was filmed in Toronto and St. Catharines, Canada. Thirty years later, it is widely considered to be the best Christmas film of all time! This is the story of its unlikely journey.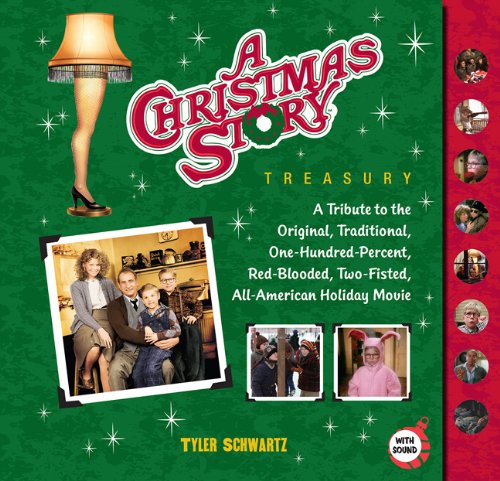 A Christmas Story Treasury is a full-colour, hard-cover book celebrating the 30th anniversary of the classic film, A Christmas Story.
A Christmas Story Treasury features behind-the-scenes stories, pull-out mementos, full-color photos, and even sound effects! It's the the ultimate salute to North America's favorite holiday movie.
This interactive book includes:
Sound buttons featuring eight memorable quotes by the film's narrator, Jean Shepherd ("You'll Shoot Your Eye Out!")
Certificate of membership to the Little Orphan Annie Secret Circle
Recipe cards for Mom's Christmas turkey and Chinese turkey
Ralphie's hand-written "theme" for Miss Shields
Replica of the telegram notifying the Old Man about his "major award" (a Leg Lamp)
9 x 12" movie poster
"Merry Christmas from the Parkers" greeting card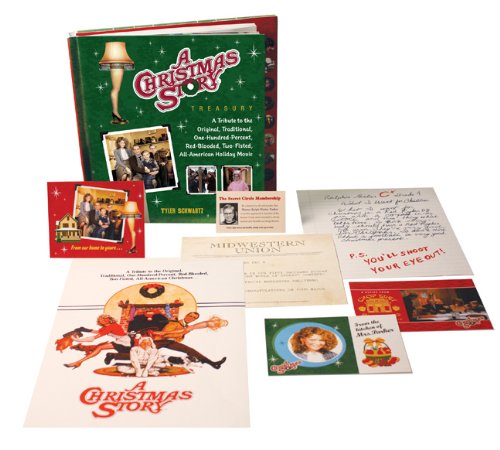 Author Tyler Schwartz interviewed a dozen of the film's key production personel who revealed behind-the scenes stories and fun memories working on the film. This is the "holy grail of Christmas presents" for fans of the movie.
About the Author
Tyler Schwartz is a writer, filmmaker, and entrepreneur who owns and operates RetroFestive.ca, Canada's Pop Culture Christmas Store. Together with wife Jordie, he produced the film Road Trip for Ralphie, which chronicles the couple's quest to discover all filming locations of A Christmas Story. Tyler is the Director of Canadian Operations for A Christmas Story House & Museum, based in Cleveland, Ohio. He is a frequent guest on Canadian talk television, discussing the virtues of classic Christmas movies and TV specials. Tyler currently resides in Oakville, Ontario, Canada with wife Jordie and baby Brent.
A Christmas Story was directed by Bob Clark and released in November of 1983. Filled with memorable characters, the movie has since become a true holiday classic. It was selected for inclusion in the National Film Registry in 2012, as a culturally, historically, or aesthetically significant American motion picture. ™ & © 2013 Warner Bros. Entertainment Inc.
Product Details Hardcover:
64 pages
Publisher: Running Press (October 1, 2013)
Language: English
ISBN-10: 0762448571
ISBN-13: 978-0762448579